ROUNDABOUT PROJECT
LOOK FOR DETOURS TO HOSPITAL
The City of Franklin is constructing a roundabout at the intersection of Jefferson Street and Westview Drive, just to the west of Johnson Memorial Health's hospital campus. The project will close direct access to hospital and professional buildings from the west on State Roads 44 and 144 (Jefferson Street) until early August.
City officials have created a primary detour route to access the campus and JMH emergency room. Signage will redirect traffic around the project and back to Jefferson Street.
Having Trouble? Get Directions
Recommended Routes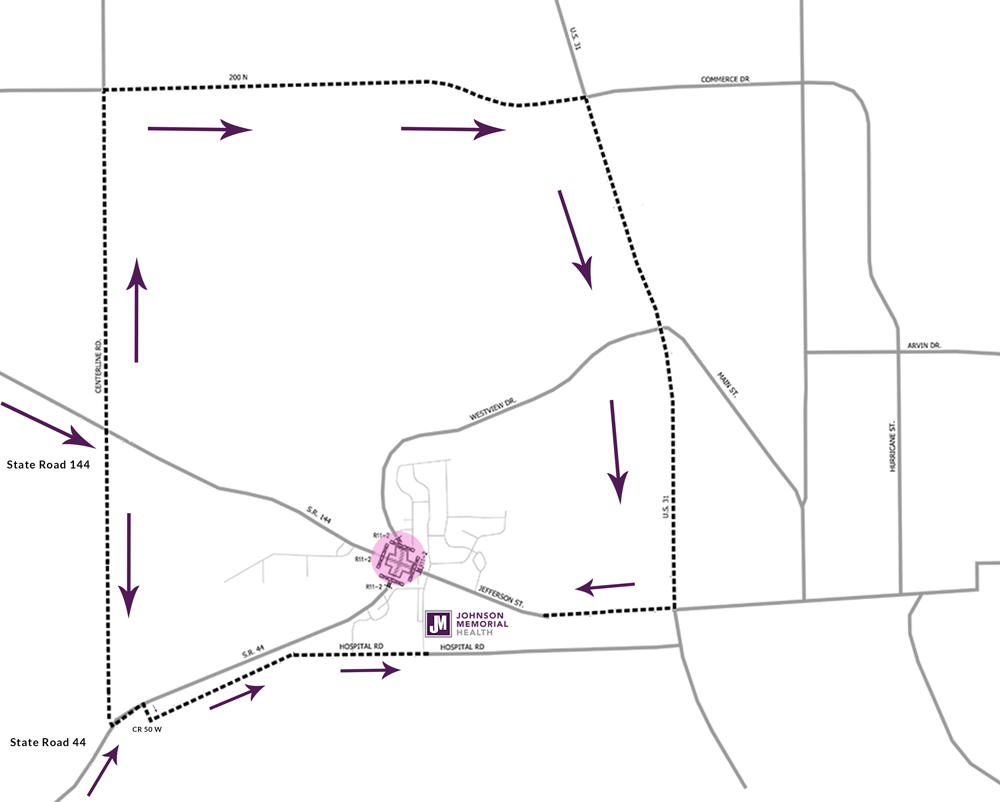 From State Road 144
Option 1
Turn North on Centerline Road
Turn East on County Road 200 North (Commerce Drive next to Franklin Community High School)
Turn South on U.S. 31 at the stoplight (next to Meijer)
Turn West on Jefferson Street to access the Emergency Room, Hospital Entrance and professional buildings
Option 2
Turn South on Centerline Road

Turn East on State Road Road 44
Turn South on County Road 50 West
Turn East on Hospital Road
Access the Emergency Room, Hospital Entrance and professional buildings at South Entrance
From State Road 44
Turn South on County Road 50 West
Turn East on Hospital Road
Access the Emergency Room, Hospital Entrance and professional buildings at South Entrance