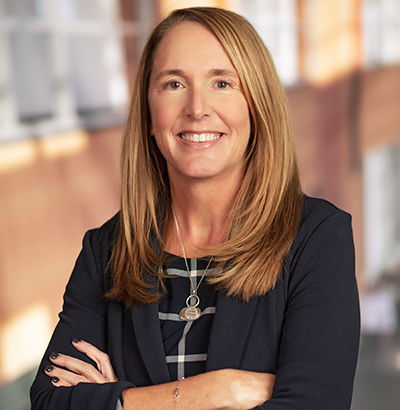 Anne-Marie Schenk, DNP, MBA, RN, NE-BC
Chief Nursing Officer
Anne-Marie Schenk joined Johnson Memorial Health as Chief Nursing Officer in October of 2021. Dr. Schenk has extensive nursing and health care experience, most recently as Chief Nursing Officer at Summerlin Hospital Medical Center in Las Vegas, Nevada, and Texoma Medical Center in Denison, Texas. She also worked as a pediatric intensive care nurse at both Riley Hospital and Peyton Manning Children's Hospital in Indianapolis.
Dr. Schenk received her BSN from Indiana University School of Nursing and her MBA in Healthcare from Indiana Wesleyan University. She earned her doctorate (DNP) from The University of Nevada, Las Vegas.
Dr. Schenk is board-certified as a nurse executive from American Nurses Credentialing Center (ANCC).
A native of Indianapolis, Dr. Schenk and her husband reside on the far south side of Indianapolis. They have two children and four grandchildren. In her spare time, Dr. Schenk enjoys audiobooks, running and spending time with family.