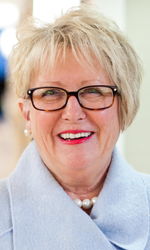 Sandi Huddleston
Chairperson
Sandi Huddleston has been chair of the Johnson Memorial Health Board of Trustees since 2009 and has served on the board since 2005.
Mrs. Huddleston is past Executive Director of the Richard G. Lugar Excellence in Public Service, Inc. She also works with the law firm of her husband, Stephen L. Huddleston, in Franklin and is past Marketing Director for Harcourt Industries. A graduate in Elementary Education from Indiana University, she is a former teacher in the Franklin and Danville Community School Corporations.
Active in her community, Mrs. Huddleston has served on the boards and in various leadership positions for the Franklin United Methodist Community, the Johnson County Community Foundation, the Women's Fund of Central Indiana, the Indiana Commission on Women, Irwin Union Bank, Zeta Associate Chapter of Kappa Kappa Kappa Sorority and Franklin Women's Study Club.
She currently serves as Chair of the Johnson County Republican Party and is past Vice Chair of the Indiana Republican State Committee. She is Past President of the Indiana Federation of Republican Women and has been a Delegate to the National Republican Convention and Indiana Republican State Convention, and served on various Rules, Procedures and Credentials Committees.
---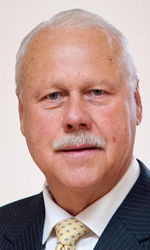 R. Martin Umbarger
Vice-Chairperson
Major General Martin Umbarger has served on the Johnson Memorial Health Board of Trustees since 2003.
He is the past Adjutant General of Indiana - leading the Indiana Army and Air National Guard. He also is President and CEO of Roy Umbarger and Sons, Inc. an agricultural wholesale and retail business located in Bargersville, Indiana.
A graduate of the University of Evansville, he was commissioned as a 2nd Lieutenant, Infantry Branch after graduating as the Distinguished Graduate (Erickson Trophy) of the Indiana Military Academy. He served as the Deputy Commanding General (ARNG), United States Army Forces Command, Fort McPherson, Georgia. Other notable assignments include Assistant Division Commander for Training, 38th Infantry Division (Mechanized) and Commanding General of the 76th Infantry Brigade (Separate), one of 15 Enhanced Brigades in the Army National Guard.
He has received numerous military awards.
He also has been active in his community and with numerous organizations, including the Bargersville Masonic Lodge (Past Master) and 33rd Degree Mason, Indiana Scottish Rite, Murat Shrine. He also has served in leadership positions with the Johnson County Animal Shelter, the Indiana Feed and Grain Association, the National Guard Association of Indiana, the Association of the United States Army (AUSA) and the National Guard Association of the United States.
---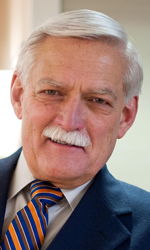 Jerry Engle
Secretary
Jerry R. Engle has served on the Johnson Memorial Health Board of Trustees since 2006.
Mr. Engle is on the Regional Advisory Board with First Merchants Bank and spent more than 40 years in the banking industry.
He served as President of Lincoln Bank, Bargersville State Bank and First Bank - having led all three institutions to remarkable growth and regional acquisition. His banking profession has included many leadership positions in lending and operations.
Mr. Engle graduated with a degree in Banking from Southern Illinois University and began his career as a bank regulator with the Department of Financial Institutions.
Companies under his leadership have been named several times in the Indiana Business Journal top 10 Fastest Growing Indianapolis Area Businesses. He was an Ernest and Young Entrepreneur of the Year Finalist in 2002.
Active in the Johnson County community, he helped start the Leadership Johnson County program and served on their Board of Trustees. He also served as President of the Johnson County Economic Development Corporation and has served on the board of Johnson County Community Foundation.
He also served many years on the Greenwood Community School Corporation Board.
---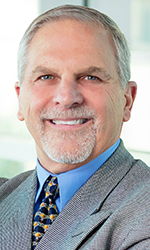 Kevin McGinnis
Member
Kevin J. McGinnis has served on the Johnson Memorial Health Board of Trustees since August of 2017.
A graduate of Indiana University in Finance, Mr. McGinnis has spent his career in the real estate industry as a custom home builder and land developer.
In addition to his business career, Mr. McGinnis is passionate about community involvement and has served on several community boards including the Greenwood Chamber of Commerce, Leadership Johnson County, Central Nine Building Trades, Johnson County REMC, Builders Association of Greater Indianapolis, Johnson County Builders Council, Indiana Municipal Power Agency, Greenwood Village, Indiana Rural Electric Association and Johnson County Community Organizations Active In Disasters (JCCOAD).
Mr. McGinnis also is a member of ASPIRE of Johnson County.
He and his wife Cindy have four children and six grandchildren.

---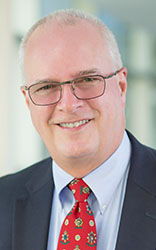 David Wiesman
Member
Franklin native David Wiesman has served on the Johnson Memorial Health Board of Trustees since August of 2016.
Mr. Wiesman recently retired from the Indiana Hospital Association (IHA) after serving as Vice President for 30 years. Prior to working with the IHA, he was a hospital consultant for accounting firm Blue & Co.,LLC, and was a math teacher and swim coach in the Wayne Township school district.
A graduate of Indiana University, Mr. Wiesman earned a BS in Education in 1974 and an MBA in 1978. he is a member of the Healthcare Financial Management Association and was a 2016 recipient of the prestigious Stanley A. Pressler Award. He is also a member of the American Institute of Certified Public Accountants, the Indiana CPA Society and Center Grove Church.
Mr. Wiesman and his wife Nancy are parents of two sons: Michael, a Lieutenant in the U.S. Navy currently stationed at Pearl Harbor; and Tony, a Business Analyst for University Student Services and Systems at Indiana University.
The Wiesmans reside in Greenwood, Indiana.