Learn proper basics, share your experiences with other moms.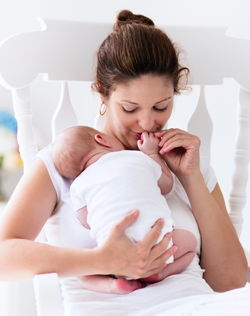 Our Breastfeeding Support Group meets every Wednesday from 1 to 2 p.m. at Johnson Memorial Hospital, 1159 Building, Suite 304 (3rd Floor) in the Pediatric Specialist's Office.
The group is open to breastfeeding mothers and babies of any age. Siblings are welcome to attend. Meetings are free, laid-back and fun! No registration is required.
The class is led by a certified lactation consultant who will help you find support on all aspects of breastfeeding and infant weight checks. You will have a place to share your experiences and concerns with other moms.
For more information call 317-736-2698.
What You Will Learn
Breastfeeding basics: what to expect during the first days after birth, as well as what to do if things do not go as planned

Positioning and identification of infant feeding cues

Supplies you to help you be prepared

Nutrition and storage of breast milk

Pumping instructions and strategies while you are at home and when you return to work

When
1 to 2 p.m. each Wednesday
Location
Johnson Memorial Hospital, 1125 W. Jefferson Street in Franklin - 1159 Building, Suite 304 (3rd Floor), Pediatric Specialists Office.