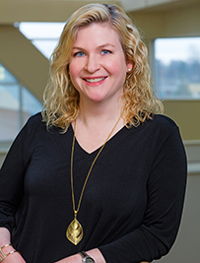 Johnson Memorial Women's Health Specialists
1125 W. Jefferson St.
Building 1125S, Suite S200
Franklin
Phone: (317) 738-0630
Medical School
Indiana University School of Medicine
Certifications
American Board of Obstetrics and Gynecology
Additional Information
Location: Whiteland Primary Care Center, 8 North US 31, Suite C, Whiteland, IN 46184, Appointments: 317.530.3111
Bio
Carrie Smith, M.D. is board certified in obstetrics and gynecology providing specialty care for women because she is passionate about women's health. She has specific interest in polycystic ovarian syndrome, pregnancy loss and miscarriage, and infertility.
Carrie and her husband both grew up in Indiana, and now live on the south side. She enjoys arts and crafts, outdoor activities, and family movie nights at home with her son and daughter. She enjoys an active lifestyle – especially running –, recently participating in a mini-marathon.
To request an appointment with Dr. Smith visit Johnson Memorial Women's Health Specialists.