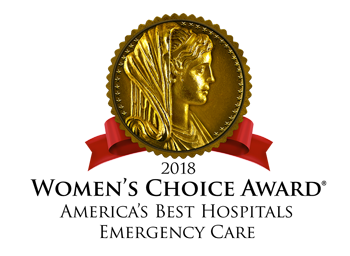 Johnson Memorial Health provides emergency care when illness or injury is serious or life-threatening.
Johnson Memorial's Emergency Department is staffed by highly trained emergency physicians and nurses who are part of Central Indiana's outstanding trauma and urgent care network. Our Emergency Department is accredited as a Stroke Ready Certification hospital by the Healthcare Facility Accreditation Program (HFAP) and has been recognized as one of America's Best Hospitals for Emergency Care by the Women's Choice Award® (WCA) .

Johnson Memorial Health Emergency Physicians:

Kenneth Byerly, D.O.
Jefferson Qualls, M.D.
Ryan White, M.D.
When an illness or injury happens, you need to decide how serious it is and how soon to get medical care. Emergency treatment can cost 2 to 3 times more than the same care you can receive in your doctor's office.

Call 911 when experiencing:
Choking
Stopped breathing
Head injury with passing out, fainting or confusion
Injury to neck or spine, especially if there is loss of feeling or inability to move
Electric shock or lightening strike
Severe burn
Seizure lasting 3-5 minutes
Go to the JMH Emergency Department or call 911 when experiencing:
Difficulty breathing
Fainting
Severe chest pain or pressure
Pain in arm or jaw
Unusually bad headache, especially if headache starts suddenly
Suddenly unable to speak, see, walk or move
Suddenly weak or drooping on one side of the body
Dizziness or weakness that does not go away
Inhaled smoke or poisonous fumes
Sudden confusion
Heavy bleeding
Possible broken bone, loss of movement, especially if the bone is pushing through the skin
Deep wound
Serious burn
Coughing or throwing up blood
Severe pain anywhere on the body
Severe allergic reaction when trouble breathing, swelling or hives
High fever with headache or stiff neck that doesn't improve with medicine
Throwing up or loose stools that don't stop
Poisoning or overdose of drug or alcohol
Suicidal thoughts
Seizures
Go to the JMH Immediate Care Center when experiencing:
Common illnesses such as colds, flu
Earaches
Sore throat
Migraine
Low-grade fever
Limited rashes
Minor injuries such as sprains, back pain, cuts, burns, broken bones or eye injuries
If you are not experiencing an emergency or immediate/urgent care condition, call your doctor. If the office isn't open, the office will inform you of whom you should contact to describe your symptoms and determine the next steps for care. If your need is not life threatening or risking disability, but you are concerned you cannot see your doctor soon enough, go to the JMH Immediate Care Center or a local immediate/urgent care clinic.
Your doctor or insurance company may offer a nurse advice telephone hotline to get health care information and answer your questions.
Stroke Ready Certification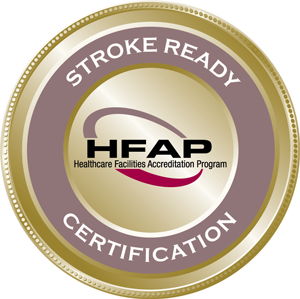 Johnson Memorial Health has been accredited with Stroke Ready Certification by the Healthcare Facility Accreditation Program (HFAP), the nation's original independent, accreditation organization recognized by the Centers for Medicare and Medicaid Services (CMS) . Accreditation confirms that Johnson Memorial Health is providing high quality stroke care as determined by an independent, external process of evaluation.
Our JMH team has received special training to recognize and treat stroke patients with tPA, the clot-busting drug, administered to eligible patients. Johnson Memorial Health has the ability to care for our stroke patients here locally starting in our emergency department then to home health therapy and outpatient therapy.