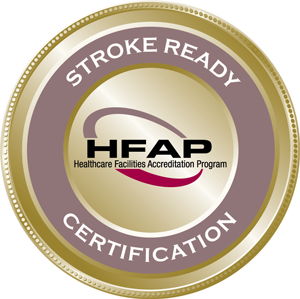 Johnson Memorial Health has been accredited with Stroke Ready Certification by the Healthcare Facility Accreditation Program (HFAP), the nation's original independent, accreditation organization recognized by the Centers for Medicare and Medicaid Services (CMS) . Accreditation confirms that Johnson Memorial Health is providing high quality stroke care as determined by an independent, external process of evaluation.
"Johnson Memorial Health clearly demonstrates a commitment to quality and patient safety," said Lawrence Haspel, DO, HFAP Chairman. "We base our decision on the findings of an extensive and thorough on-site review of the hospital against recognized national standards for patient safety, quality improvement, and environmental safety. Johnson Memorial Health has earned the distinction of HFAP accreditation through its performance in successfully meeting those standards."
"We're proud to achieve this prestigious accreditation," said Larry Heydon, President and CEO, Johnson Memorial Health. "Earning stroke ready certification status is a significant achievement that further recognizes our commitment to providing outstanding care to our patients and our community."
"I am so pleased to announce this HFAP Stroke Ready Certification to our community," said Joey Hollis, Emergency Department Manager and Stroke Coordinator at Johnson Memorial. "Johnson Memorial Health is the first Stroke Ready Certified Center accredited by HFAP. This represents the hard work that staff has done to meet and exceed the patient safety and quality improvement standards to provide excellent care to our stroke patients. "
"Johnson Memorial Health is serious about stroke care for our community," said Diane McKinney, Director of Transitional Care at Johnson Memorial Health. "Our team has received special training to recognize and treat stroke patients with tPA, the clot-busting drug, administered to eligible patients. It is important to remember that this drug can only be used within three hours of the onset of symptoms. Patients who recognize the signs and symptoms of a potential stroke, including facial droop, difficulty speaking, weakness of arms or legs, should immediately seek emergency care by calling 9-1-1. Johnson Memorial Health has the ability to care for our stroke patients here locally starting in our emergency department then to include post-stroke care in our Acute Rehabilitation Unit, home health therapy and outpatient therapy."


Read about signs and symptoms of stroke


About Healthcare Facility Accreditation Program
HFAP is a nationally recognized not-for-profit accreditation organization with deeming authority from the Centers for Medicare and Medicaid Services. Originally created in 1945, HFAP is the original healthcare accrediting body in the United States. HFAP accreditation is recognized by the federal government, state governments, managed care organizations, and insurance companies.
In 2015, the Accreditation Association for Hospitals/Health Systems (AAHHS), acquired and assumed management of HFAP's range of accreditation and specialty certification programs. For more information about these programs, visit www.hfap.org.