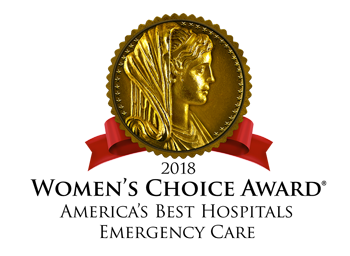 Franklin, IN – Johnson Memorial Health has been named one of America's Best Hospitals for Emergency Care by the Women's Choice Award®, America's trusted referral source for the best in healthcare.

The methodology for America's Best Hospitals for Emergency Care award is unique in that it combines Hospital Consumer Assessment of Healthcare Providers and Systems (HCAHPS) survey results with primary research about women's healthcare preferences. The award recognizes excellence in emergency care based on several process of care measures focused on time patients spent in the emergency department, including:
Time to admission

Time from admission to room

Door to diagnosis

Criteria for selecting Johnson Memorial Health as one of America's best also included the average time before outpatients with chest pain or a possible heart attack received an ECG, and the average time patients with broken bones had to wait before getting pain medication. Awarded hospitals represent those with emergency departments with average measure times in the highest 25th to 50th percentile in the country.
The award is especially significant given that long waits and high crowding can negatively impact patient outcomes, including patients leaving without receiving medical treatment, longer overall length of hospital stay and an increase in mortality rates.
"Emergency departments can be very stressful environments, particularly for the elderly or a mother with a sick or injured child," said Delia Passi, founder and CEO of the Women's Choice Award. "Women make over 80 percent of healthcare decisions and want to be confident that they know which emergency departments in their communities will take care of their loved ones quickly and with the best possible care."
"This award is extra special to us because in addition to meeting the strictest level of healthcare criteria, we had to earn it from our community," said Larry Heydon, Johnson Memorial Health President/CEO. "In fact, only the hospitals that achieve a high level of patient satisfaction criteria from their patients, are eligible to earn the award... and we are so proud of that accomplishment."
Johnson Memorial Health is one of 328 award recipients representing the hospitals that have met the highest standards for emergency care in the U.S. by the Women's Choice Award.
For more information about the America's Best Hospitals for Emergency Care, please visit here.
About The Women's Choice Award®
The Women's Choice Award® is a trusted referral source, empowering women to make smart healthcare choices by identifying the country's best healthcare institutions based on robust criteria that consider female patient satisfaction and clinical excellence. The Women's Choice Award was recently honored by the INC 5000 List of America's Fastest-Growing Private Companies in 2017 for a third consecutive year. Visit http://www.womenschoiceaward.com/ to learn more.
About Johnson Memorial Health
Johnson Memorial Health is a nationally-recognized network of physicians, services and healthcare resources based in Johnson County, Indiana. The centerpiece is Johnson Memorial Hospital, located in Franklin Indiana, which has been serving patients as the county's only hospital since 1947.
We have more than 100 physicians and medical specialists who are dedicated to the residents of Johnson County and the surrounding areas. Our top goal is to provide quality healthcare services for our community with service that is focused on you and built on the highest quality of care and safety standards.