JMH Nationally Recognized with an 'A' for Hospital Safety
April 30, 2020 Author: Johnson Memorial Health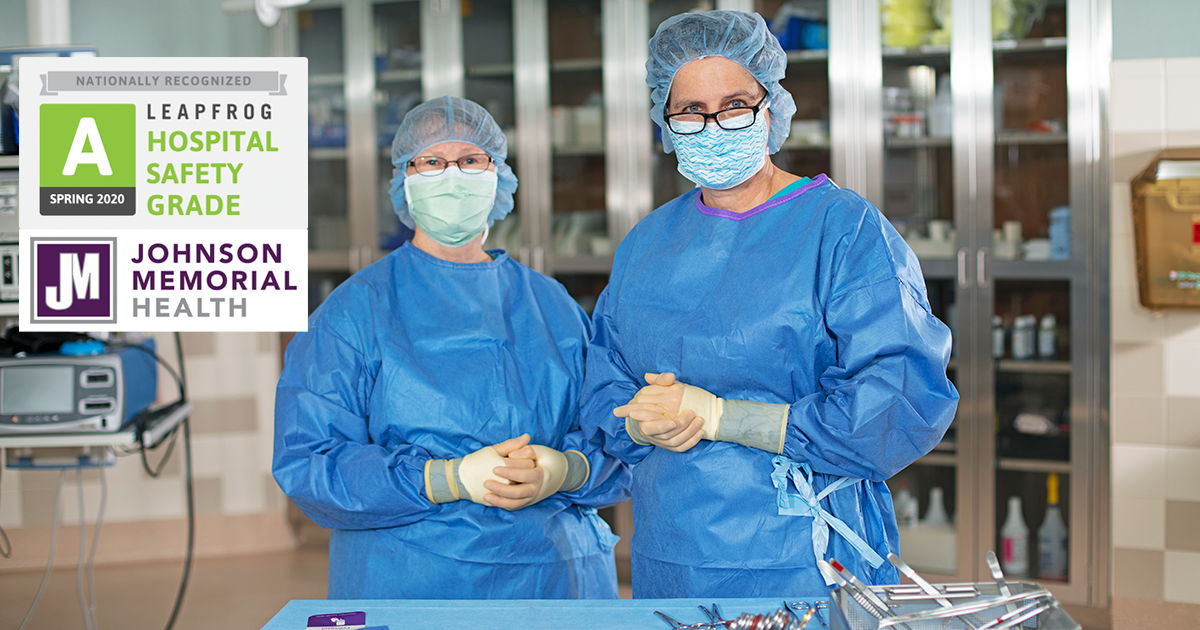 FRANKLIN, April 30 — Johnson Memorial Health was awarded an 'A' in the spring 2020 Leapfrog Hospital Safety Grade, a national distinction recognizing the hospital's achievements providing safer health care. The Leapfrog Group is an independent national watchdog organization committed to health care quality and safety. The Safety Grade is a letter grade assigned to all general hospitals across the country and updated every six months, assessing how well the hospital prevents medical errors and other harms to patients.
"I am incredibly proud of this achievement," said Dr. David Dunkle, President and CEO of Johnson Memorial Health. "Every employee in our organization takes patient safety seriously and this grade is a reflection of the focus and hard work of everyone."
"As the nation copes with a challenging pandemic, our gratitude extends to hospital leadership and health care workers everywhere for their tremendous dedication," said Leah Binder, president and CEO of The Leapfrog Group. "We hope this 'A' helps to thank the people who work and volunteer for Johnson Memorial Health. They are role models in putting patients first, and their service has been extraordinary in our country's time of need."
Developed under the guidance of a National Expert Panel, the Leapfrog Hospital Safety Grade uses up to 28 measures of publicly available hospital safety data to assign grades to more than 2,600 U.S. acute-care hospitals twice per year. The Hospital Safety Grade's methodology is peer-reviewed and fully transparent, and the results are free to the public.
Johnson Memorial Health was awarded an 'A' grade today when Leapfrog updated grades for spring 2020. To see Johnson Memorial's full grade details and access patient tips for staying safe in the hospital, visit hospitalsafetygrade.org and follow The Leapfrog Group on Twitter and Facebook.
About The Leapfrog Group
Founded in 2000 by large employers and other purchasers, The Leapfrog Group is a national nonprofit organization driving a movement for giant leaps forward in the quality and safety of American health care. The flagship Leapfrog Hospital Survey and new Leapfrog Ambulatory Surgery Center (ASC) Survey collect and transparently report hospital and ASC performance, empowering purchasers to find the highest-value care and giving consumers the lifesaving information they need to make informed decisions. The Leapfrog Hospital Safety Grade, Leapfrog's other main initiative, assigns letter grades to hospitals based on their record of patient safety, helping consumers protect themselves and their families from errors, injuries, accidents and infections.
About Johnson Memorial Health
Johnson Memorial Health is a nationally-recognized network of physicians, services and healthcare resources based in Johnson County, Indiana. The centerpiece is Johnson Memorial Hospital, located in Franklin Indiana, which has been serving patients as the county's only hospital since 1947.
Johnson Memorial Health provides award-winning services including cancer, cardiovascular, diabetes, maternity, orthopedic, sports medicine, pain, weight loss and wound healing care. The network also features breast care, home and occupational care and outpatient rehabilitation services.
In addition to the main campus in Franklin, Johnson Memorial Health has expanded to include the Greenwood Primary Care Center, the Whiteland Primary Care Center and the Franklin Primary Care Center. In 2013, Johnson Memorial Health partnered with Community Health Network and opened the Stones Crossing Health Pavilion to serve the residents of the Center Grove area.
Johnson Memorial Health has been awarded numerous accolades, including the 2018 Women's Choice Award as one of America's 100 Best Hospitals for Emergency Care.