Johnson Memorial Health Welcomes New Pediatrician
October 13, 2020 Author: Johnson Memorial Health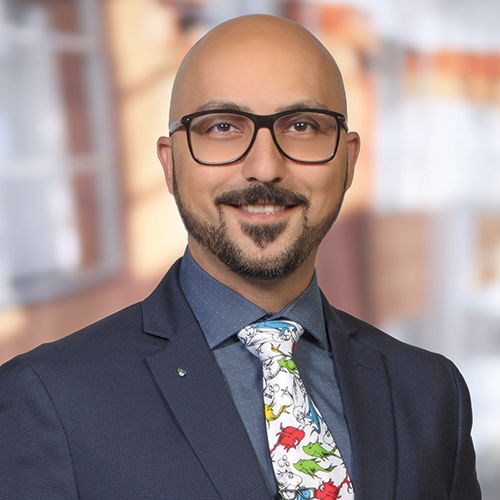 Johnson Memorial Health is pleased to welcome Sahand Banisadr, MD to our pediatrics practice. Dr. Banisadr will be seeing patients in both our Johnson Memorial office in Franklin and the Greenwood Primary Care Center on U.S. 31 near Smith Valley Road in Greenwood.
Dr. Banisadr obtained his bachelor's degree in General Biology from the University of California, San Diego. He then went on to earn his Master's degree and his Doctorate of Medicine from the University of Toledo College of Medicine and Life Sciences, and completed his Pediatric residency at the Toledo Children's Hospital. During his time in Toledo, Dr. Banisadr was granted awards for teaching students and fellow residents, and received accolades for exceptional patient care.
Through the course of his education, he discovered his passion for providing the best possible care for children with chronic health conditions such as asthma, eczema, diabetes and obesity, and for helping families to understand and care for their children. He is enthusiastically committed to maintaining wellness in all his patients from birth through adulthood, in order to promote good health throughout the entirety of their lives.
Dr. Banisadr believes in giving back to the community through supporting local organizations including America Reads, Habitat for Humanity, and mentoring those in high risk or low socioeconomic households. Outside of patient care, he is an avid outdoorsman and enjoys camping, hiking, kayaking and spending time with his family and dog. He is also well traveled and is fluently bilingual in both English and Persian.
Dr. Banisadr joins Megan Ciaccio, MD, Mary Chambers, MD, Amanda Jackson, MD, FAAP and Heidi Smith, CPNP in the Johnson Memorial Health pediatrics practice. Longtime pediatricians Craig Moorman, MD, and Debra Holmes, MD, FAAP, will be retiring at the end of this year.