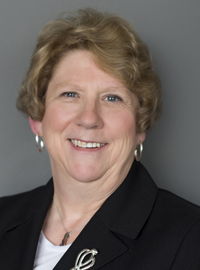 Anita Keller, RN, MSN, ONC, CPHQ
Chief Nursing Officer
A licensed nurse since 1976, Anita brings a broad range of experiences and expertise to nursing leadership at Johnson Memorial Health. She joined the Senior Leadership Team in late 2008 and has implemented a number of changes and improvements.
She received her Associates Degree in Nursing from Indiana University, a Bachelors Degree in Nursing from University of Indianapolis and Masters in Nursing from Indiana University.
Before joining Johnson Memorial Health, she was involved with a $42 million facility expansion at St. Francis-Mooresville and was also an integral part in the surgery expansion building project at JMH.
She is a Certified Professional in Healthcare Quality. She continues to serve in several professional nursing organizations in a variety of leadership roles. She currently serves on the IVY Tech Franklin Community Board.
A Mooresville area resident, Anita and her husband Jim are remodeling a home built in 1875. They have two sons, two daughters and four grandchildren.
---