At the Johnson Memorial Hospital Maternity Care Center, we'll treat your growing family like a part of ours. We want you to feel like you're in the comfort of your own home, with all of the modern technology to insure a safe, healthy delivery.
Admission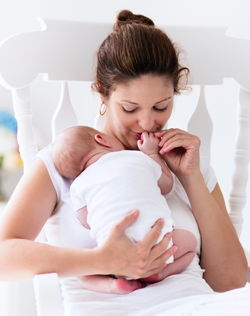 During a Pre-Admission Visit and Education (PAVE) appointment, moms-to-be and their families will have an opportunity to fill out all necessary paperwork and receive educational materials prior to admission.
Our Labor-Delivery-Recovery-Post Partum Rooms
Our 12 private LDRP rooms offer you the comfort of your very own bedroom. When it comes time to deliver the baby, they convert into a state-of-the-art delivery room in a matter of seconds. An operating room also is available inside the Maternity Care Center for C-sections.
The rooms also feature:
TV/DVD
Refrigerator
Private bathroom with shower
Glider rockers/chair beds
Roll-away-beds available for family
Beds for outpatient observation and antenatal care
Two private rooms for GYN patients
Even though you likely won't be staying with us long, we want to make sure you're comfortable the entire time. A kitchenette is stocked with snacks and drinks 24/7, and we also offer room service. Breakfast is served from 6:30 until 10 a.m. and lunch and dinner are served from 10:30 a.m. until 6 p.m. If you like to sleep in, we offer a continental breakfast cart with extended breakfast hours.
Our Nursery
In our nursery, the latest monitoring equipment will keep a close watch on your bundle of joy. A security system keeps all of our babies safe and sound in their cribs.
Our staff has many other pieces of special equipment including fetal monitoring and surveillance systems; infant care warmers and isolettes; infusion pumps; phototherapy equipment; hearing screeners; and oximetry equipment.
Childbirth Education
Educating yourself is the first step in preparing your family for the birth experience and beyond. Moms-to-be can register to attend a free program, Great Expectations, where you will meet health providers and other providers who serve women and children. You will learn about the birth experience and hospital environment when you deliver your new baby and be equipped with helpful resources.

Great Expectations is held quarterly at Johnson Memorial Health and coordinated by the hospital's maternity care center and the office of Johnson Memorial Women's Health Specialists.
Register to attend Great Expectations
Great Expectations Free Childbirth Education Program