my Virtual Health VISIT ONLINE
Feeling sick usually happens at the most inconvenient times. However, that doesn't mean getting the care you need has to be inconvenient. The JMH myVirtualHealthVisit app gives you 24/7 online access to convenient, quality care.

NOTE: Patients should check with their physician office first to see if their provider participates in a separate virtual health visit. Johnson Memorial Health Providers are not available on this service.

Service Key Code: JOHNSON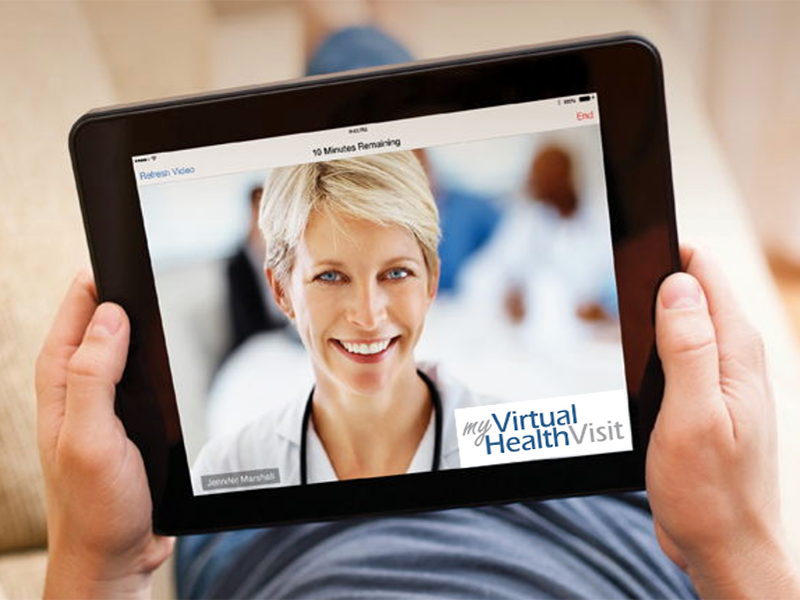 When To Use It
myVirtualHealthVisit can be used for common conditions such as:
Upper respiratory infections/flu
Bronchitis
Sinus infection
Earache
Conjunctivitis (pink eye)
Urinary tract infection
Skin disorders
Back pain
Please note that myVirtualHealthVisit is not for emergency or life threatening conditions. If you have a medical emergency, call 911 immediately.
App Integration
myVirtualHealthVisit is integrated with Apple Health, so you can choose to share your health information with the provider during your virtual visit. This information includes heart rate, blood pressure, body temperature, blood glucose levels, weight, nutritional information and respiratory rate.
Download
What To Expect
The video and audio chat features allow a board certified provider to diagnose, prescribe medication, and suggest an in-person appointment, if necessary. myVirtualHealthVisit can be used for children who are at least 5 years of age. Services cost $49.
Privacy
Any information that you provide when enrolling, including your credit card and personal health details, is secure. Your visit is private, and any information you share with the provider is protected in accordance with HIPAA guidelines for patient safety and confidentiality.
5 Reasons Why You Should Join Our Team
We value your experience and expertise as a healthcare professional.
We have an attractive and safe community in which to work and live.
We offer competitive pay and outstanding benefits that enable you to support your family.
We value your work-life balance and provide flexible work schedules for many positions.
We embrace diversity on our teams and are an equal opportunity employer.
Learn More