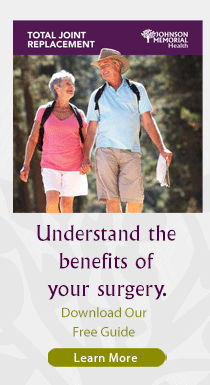 Rehabilitation and Orthopedic Center
1125 West Jefferson Street
1165 Building
Franklin, IN 46131
Office: 317.346.3100
Fax: 317.346.3660
At the Rehabilitation and Orthopedic Center of Johnson Memorial Health, our singular goal is to get you back to your normal, active lifestyle and help you pursue the activities you enjoy the most.
Orthopedic and sports medicine specialists located at the center include James Friedlander, M.D. and Martin Turner, D.O. Dr. Friedlander is a board-certified orthopedic surgeon who has been practicing in Johnson County for many years. Dr. Turner is a board-certified orthopedic surgeon and has completed a special training fellowship in sports medicine. He brings a wide range of new expertise and knowledge to Johnson Memorial and works closely with area high school athletes.
Pain Relief Specialists, Vincent R. Gathings, M.D. is located at the center. Dr. Gathings is a board-certified anesthesiologist who joined the medical staff at Johnson Memorial Health in 2008. Dr. Gathings provides an extensive array of pain therapies with a focus on the treatment of persistent and chronic pain by offering consultation, education, physical rehabilitaton and interventional therapies.
We also have a staff of dedicated RNs, physical therapists, certified athletic trainers and certified x-ray technicians who provide comprehensive orthopedic care. From diagnosing what ails you, to treatment and surgery, and complete recovery and rehabilitation, we will make sure you are back up and running (or playing golf) as soon as possible.
Learn more about our sports medicine program
Learn more about total joint replacement
Connect With Us