VISION 2020
NEW OUTPATIENT, EMERGENCY SERVICES CENTER
We are now opening our new, state-of-the-art addition to the east side of our hospital in Franklin. The addition is part of a $47 million project, the largest in Johnson Memorial Health's history, which has completely re-shaped the campus.
Outpatient services have begun to move to the new facility, with the new Emergency Room opening on August 3.
PROJECT HIGHLIGHTS
17,400 square-foot emergency department with a new ambulance drive and bay.
33,000 square-foot outpatient services space (including radiology, laboratory and wellness activities) with a separate, canopy-covered entrance for easy and safe patient access.
A wellness suite and room for future expansion and services on the second floor.
No local or county tax dollars were used to fund the project.
Indianapolis-based design firm Cripe oversaw architecture and engineering requirements.
New Main Entrance Open
The new Main Entrance provides easy access to the new Registration Area and other hospital buildings. Patients using Johnson Memorial outpatient services need to now sign in here on the east side of the campus.
Medical Imaging, Breast Care Center in New Home
The new Medical Imaging Department is open. Besides a new location, they have state-of-the-art equipment for mammograms and bone density, MRI and CT scans and nuclear medicine outpatient services. Use Drake Road to enter the campus for convenient parking near the new Main Entrance.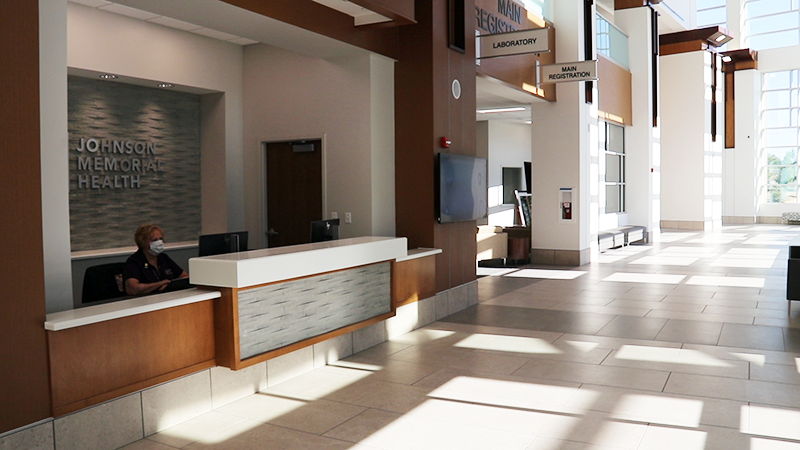 JMH Opening New Emergency Department
The new 17,400 square-foot emergency care facility features more space, a new ambulance bay and a helicopter landing area. Johnson Memorial Health has announced a new partnership with Boone County Emergency Medicine.