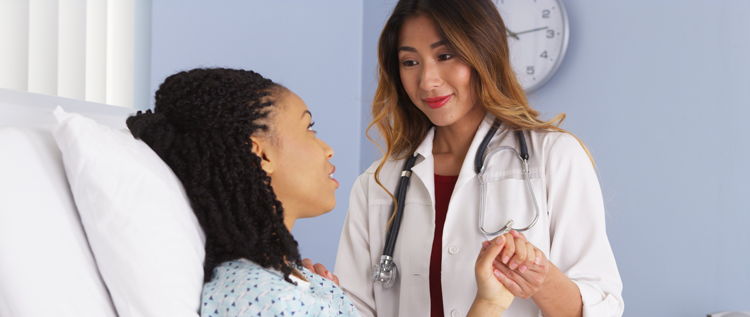 Treating an injury or illness is mission critical for healthcare providers. So, too, is preventing both.
That is why Johnson Memorial Health is partnering with the Indiana Public Safety Center to protect your health and well-being.
"We have a robust culture of safety at Johnson Memorial Health," said David Dunkle, M.D., JMH Interim CEO. "A level of compassion and vigilance for patient welfare is as important as any other aspect of competent health care."
During Patient Safety Awareness Week (March 11-17, 2019), Johnson Memorial Health is focusing public attention on seven key areas of patient safety:
Opioid Awareness
Prescription painkiller overdose in the U.S. is now considered an epidemic. Deaths from drug overdose are the leading cause of accidental injury death, surpassing deaths from car accidents. From 1999 to 2009, Indiana saw a 500 percent increase in the rate of drug overdose deaths, and in 2016, Indiana ranked as the 15th highest overdose rate in the nation.
To avoid harm from your prescription painkillers:
Medication Usage
Improper use of medication accounts for at least 7,000 deaths in the U.S. each year. Know what medications you are being prescribed and what the proper dosage and instructions are, and take them correctly every time. If you have questions about medications, contact your health care provider or pharmacist.
Prevention of Falls
Every 20 minutes an older adult dies from a fall in the U.S., according to the CDC. Help prevent falls with these tips:
Talk to your doctor about your fall risk, medication side effects (like dizziness or sleepiness) and vitamins for bone health

Practice strength exercises to improve balance

Get an annual eye exam and update your vision prescriptions

Remove obstacles from your home that you could trip over

Hand Hygiene
Keeping your hands clean is the number one way to prevent infection. Practice these handwashing tips to stay healthy:
Wash your hands with soap and water for at least 20 seconds. Sing "Happy Birthday" twice to know you've washed long enough

Cover all of your hand area with soap, including fingers, wrists, fingernails and back of the hand

If soap and water are unavailable, use an alcohol-based hand rub or sanitizer

Safe Antibiotic Usage
While antibiotics are used to treat a variety of bacterial illnesses, improper use can be dangerous. Taking antibiotics increases your risk of developing an antibiotic resistant infection later. Only take antibiotics for bacterial infections. Antibiotics do not help viral infections, such as the flu, colds or bronchitis. Use antibiotics wisely and get recommended vaccines.
Sepsis Awareness
Sepsis is the body's overwhelming and potentially life-threatening response to an infection. Almost 3,500 Hoosiers die each year from sepsis. There is no single sign or symptom of sepsis. Here are some symptoms to look out for:
Shivering, fever, very cold

Extreme pain or feeling worse than ever

Pale or discolored skin

Sleepy, difficult to wake up, confused

I feel like I might die

Short of breath

Safe Infant Sleep Practices
Ensure safe sleep for your child by practicing the A-B-Cs of infant safe sleep:
All by Myself: Infants should always sleep alone. Babies should not sleep with anyone or practice co-sleeping.

On my Back: Always place your baby on his or her back to sleep

In my Crib: Put babies on a firm sleep surface, like a mattress covered in a fitted sheet in a safety-approved crib

Keep soft objects, such as pillows and loose bedding, out of your baby's sleep area.

JMH Patient Safety Survey
Johnson Memorial employees recently participated in the annual Hospital Survey on Patient Safety Culture as required by the Agency for Healthcare Research and Quality (AHRQ). The survey results indicate employees believe Johnson Memorial's culture of safety is positive due to:
Teamwork: Demonstrated by support, trust, respect among fellow employees

Organizational Learning - Continuous Improvement: Employees pursue and evaluate ways to demonstrate safe care

Support from Supervisor/Manager: Employees suggestions are valued

Good Communication: Employees discuss ways to prevent errors from happening again.