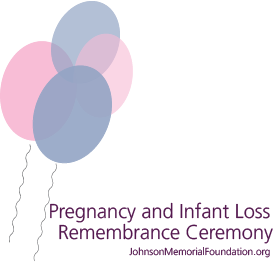 An annual service for those touched by miscarriage, stillbirth, SIDS or the death of a newborn will be October 7 at Johnson Memorial Hospital.
The National Pregnancy and Infant Loss Remembrance Day will be observed at a ceremony of dedication and remembrance will start at 4 p.m. in the Reflection Garden.
The Johnson Memorial Hospital Foundation - in partnership with Johnson Memorial Hospital's Maternity Care Center and the The Love, Lucas organization - will host the ceremony, which is open to the public. Reservations are not required.
This day of remembrance has been held throughout the United States since 1988 and recognizes the loss many parents experience.
The Reflection Garden is located on the south side of the hospital campus, 1125 West Jefferson Street, beside the 1125S Building. The ceremony will include a memory balloon release. Light refreshments will be served.
For more information, contact Jennifer Tennell at the Johnson Memorial Foundation, 317.346.3703
About Love Lucas
Love, Lucas is a non-profit organization that provides emotional, financial, and spiritual support to families suffering infant or pregnancy loss. The organization initially and primarily responds by extending financial relief to grieving parents for the memorial services of their beloved child.
About Johnson Memorial Hospital Foundation
Located at Johnson Memorial Hospital, the Foundation is the fund-raising arm of Johnson Memorial Health whose mission is to raise charitable funds to benefit Johnson Memorial Hospital in improving the health of our community. The foundation supports diverse initiatives as providing scholarships for emerging health-care leaders, helping the endowment of the St. Thomas medical clinic for the uninsured, and is committed to addressing growing health care needs such as improving access for behavioral health care services in Johnson County.