---
"Big hospitals lose that personal touch, but at Johnson Memorial it's always there - from the housekeeping staff to the doctors. I'm in customer service at Bradley Chevrolet and I know how important that is."
John Burbrink
- Franklin Resident, Finance Manager at Bradley Chevrolet
John's Story
A trip to Johnson Memorial's Immediate Care Center ended with an emergency appendectomy for John. During this unexpected illness John tells about his primary care provider, David Dunkle, M.D. and surgeon David Wippermann, M.D., "They had my back, on a very personal and caring level." "Dr. Wippermann is a fun, normal guy who put me and my family at ease right away—a terrific bedside manner." Of JMH he says, "They make you feel like a big fish in a little pond."
---
"Colleges and hospitals alike excel by providing thoughtful attention to those they serve. By choosing Johnson Memorial, we got the personal experience we wanted when our girls were born and that was important to us."
Ben O'Neal - Franklin College Biology Professor
The O'Neal Family's Story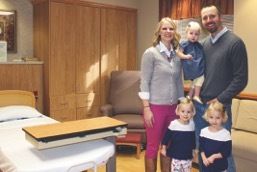 Ainsley and Emerson O'Neal, beautiful twin girls are who brought the O'Neals to Johnson Memorial's Maternity Care Center. The O'Neals shared their story with us. "The staff at JMH (ER, Women's care, Labor and Delivery) are knowledgeable, professional, and personable.
Over the course of the last four years, we've had medical needs that ranged from mundane to very intense. In all of these moments, the staff was attentive, timely, and skilled. The staff of JMH understands and exercises one of the most critical aspects of quality medical care. They understand that effective diagnosis, treatment, and healing require a genuine connection with the patient. They listen. They treat their patients like they would want their own families treated if they were in need of care."
"Throughout the process of preparing for and delivering our three little girls, we received top notch care. JMH offered meaningful educational opportunities to prepare for our birth. During our stay at the hospital, the nurses, doctors, technicians, and facilities staff were always patient-focused. To this day, we love to visit the staff members that cared for us during our stay. When you or a loved one is well cared for during a critical moment in your life, a bond is forged that you never forget.
Many of life's most significant moments happen in hospitals. We are so grateful to have a hospital in our community that recognizes the significance of its work and service and carries out its mission with diligence, integrity, and warmth.
---
"When I tore my ACL during the first football game of the year I already knew who to go to because I'd seen Dr. Turner on the sidelines at our games. It's great because he coordinates with Marcus Davis, our athletic trainer, and even comes to school for follow up visits."
Joseph Stevenson - Student Athlete, Franklin Community High School
Joseph's Story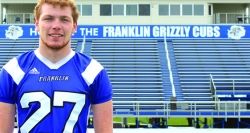 Joseph Stevenson is a competitive student athlete at Franklin Community High School, familiar with the thrills of Friday night lights football and face-offs at wrestling matches. Joseph is also familiar with the struggles of staying healthy while competing in these physically demanding sports.
A torn left ACL during the football season opener his junior year brought him to Martin Turner, DO, at Johnson Memorial Health. Joseph describes Dr. Turner as "a professional, calm and reassuring doctor who took the time with him and his family to explain the injury and how the surgery would go, and how rehab would be part of the healing process." Joseph was back on the field for his senior year and says "it was not uncommon for him to look up and see Dr. Turner on the sidelines, available to come over to talk to him and offer advice during the game."
Joseph's first wrestling match of the season unfortunately resulted in a new injury, a torn right ACL. No second thought was needed for the second injury, as he returned to Johnson Memorial Surgery Center for another procedure with Dr. Turner to repair and reconstruct the injured knee. Joseph said, "the procedure was quick and easy; I was in an out and home before I knew it." He's currently rehabilitating and doing great under the care of Dr. Turner and Franklin's athletic trainer, Marcus Davis.
Joseph is excited to attend Franklin College next year to study marketing and entrepreneurship, fields where managing ventures and taking risks are not uncommon. His experiences as a student athlete will help him get off on a good leg, pun intended.
---
"When I was first diagnosed with diabetes, I had a hard time getting answers. But when a friend referred me to Dr. Gaston Dana, he and Carla Duncan, RN at the Diabetes Care Center, worked together to create a treatment plan including medication, diet and exercise that has me back to feeling my best." Brandi Petro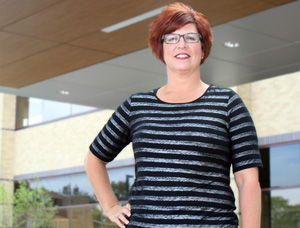 Brandi was diagnosed with diabetes three years ago. By working as an x-ray tech for over 19 years, she knows a lot about healthcare, but struggled with not feeling her best given her new diabetes diagnosis. A friend recommended she consult with Gaston Dana, D.O. at Johnson Memorial Internal Medicine Specialists. Dr. Dana worked with her to properly diagnose her rare type I adult onset diabetes and developed a treatment plan to help her feel good again. He introduced her to Carla Duncan, RN at the Johnson Memorial Diabetes Care Center, and within two weeks of coordinated care of medicine, diet and exercise, she was already feeling back to normal. Brandi states "Dr. Dana listens to me and tries to get me where I need to be personally. He asks a lot of questions to determine my overall health and explains the risks. He is so accessible and makes diabetes easy to understand so you don't feel overwhelmed."