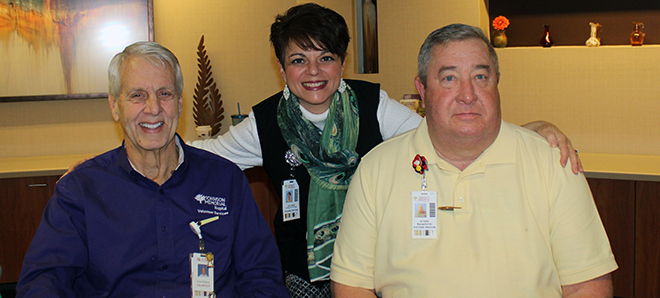 Volunteers provide a valuable part of the patient and guest experience
We are committed to providing a great experience for every patient and guest when they visit Johnson Memorial Hospital (Franklin, Indiana) and we are looking for community members who feel the same way.
Benefits of Volunteering
Meet new people, learn new skills and make lasting friendships with others on the volunteer team

Help hospital staff deliver excellent care to patients and guests

Receive a free meal in the Willow Cafe for each 4-hour shift

Receive awards and recognition celebrations

Free JMH Gear (shirt)

Adult and Teen Volunteers Needed.
We invite you to be part of the volunteer team at Johnson Memorial Hospital. You and other dedicated individuals will work together to assist Johnson Memorial Hospital staff in caring for patients and guests. The support you provide is very important to others and will be very rewarding for you as well.
Volunteer roles may include:
Information desk attendants including new evening hours
Gift shop clerk
Patient registration reception and other medical staff support
Wheelchair transport
Escorting patients and visitors throughout hospital campus
Assist with Therapy Dogs program
Assist with Comfort Cart
Deliver flowers to patients
Run errands for hospital departments
There are several areas within Johnson Memorial Hospital where you may highlight your skills. Some specific job descriptions are provided below.
See Volunteer Job Descriptions
Serving Others During All Stages of Life
Whether you are a teen or an adult, whether you want to volunteer after work once or twice a week or have retired from the workforce...there are no limits to serving others, anywhere, especially in the healthcare setting, specifically here at JMH!
Adult Volunteer Requirements
Once an adult volunteer application is received, our Guest Services Coordinator/Liaison will contact you to schedule an interview. Following the interview we will perform:
1. Reference checks.
2. Criminal history check—All volunteers must pass a limited criminal history background check.
3. Orientation and training—All volunteers are required to attend volunteer orientation and department specific training.
Complete Application
Are you ready to start your volunteer experience today? We invite you to complete the appropriate application below.