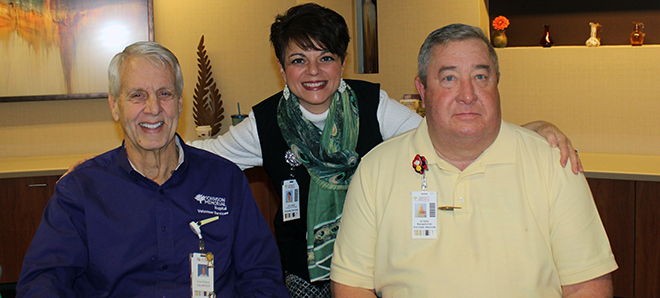 A valuable part of the patient experience
We are committed to providing a great experience for every patient and family when they visit Johnson Memorial Hospital (Franklin, Indiana) and we are looking for community members who feel the same way.
Benefits of Volunteering
Meet new people and work as a team along with other volunteers

Opportunity to help people while exploring a career in health care

Free meal in Willow Cafe for each 4-hour shift

Awards and recognition celebrations

Free flu shot

Volunteering at Johnson Memorial Hospital (Franklin, Indiana) offers a variety of opportunities to highlight your skills.
See Volunteer Job Descriptions
---
Volunteer Requirements
1. Reference check.
2. Criminal history check—All volunteers must pass a limited criminal history background check.
3. Orientation and training—All volunteers are required to attend volunteer orientation and department specific training.
Complete a Volunteer Application
---
Conditions of Volunteer Services
A signed Volunteer Agreement is required as part of your commitment.
---