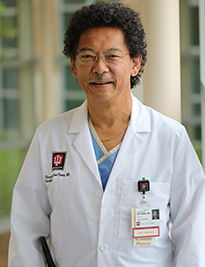 We are pleased to welcome Christopher Zee-Cheng, MD, FACC, to IU Health Cardiology at Johnson Memorial Health. Most recently, Dr. Zee-Cheng was director of electrophysiology services at Lutheran Health Physicians in Ft. Wayne, a position he held since 1990. Dr. Zee-Cheng earned his medical degree at the University of Kansas School of Medicine in Kansas City. After completing an internal medicine internship and residency at the University of Illinois Hospitals in Chicago, he completed a cardiology fellowship at St. Louis University Hospital. He also completed a fellowship in cardiac electrophysiology at the Jewish Hospital at Washington University Medical Center and was previously on faculty at the University of Missouri and University of Louisville.

Dr. Zee-Cheng is board certified in internal medicine, cardiovascular disease and clinical cardiac electrophysiology. He is a fellow of the American College of Cardiology and a long time member of the Heart Rhythm Society.
Dr. Zee-Cheng sees patients in the Cardiovascular Care Center at Johnson Memorial Health, 1125 W. Jefferson St., 1155 Building, Suite 201 in Franklin. For appointments, please call 317.668.2200.