MATERNITY CARE CENTER
317.736.3450
1125 West Jefferson Street
Franklin, IN 46131
We will treat your growing family like a part of ours. You will feel the comfort of your own home, with the modern technology to ensure a safe and healthy delivery.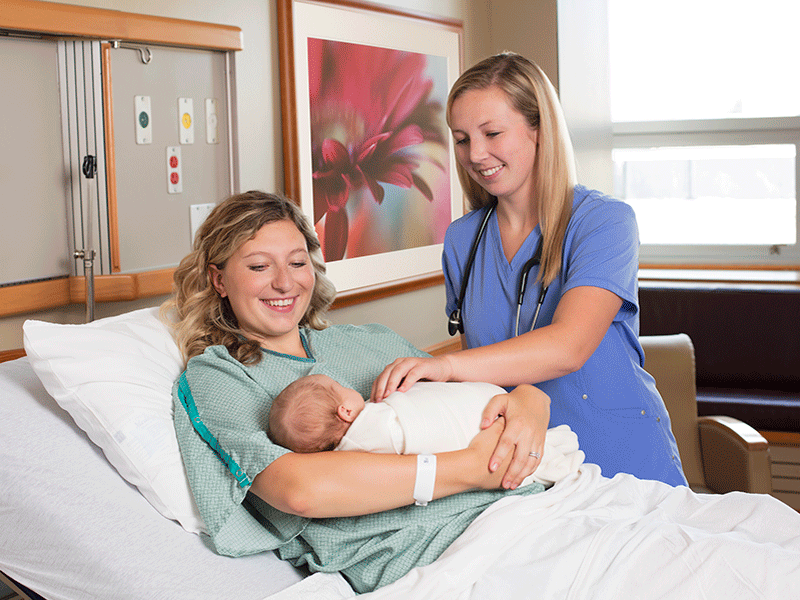 Preparing for Your Baby's Arrival
An appointment with JMH around your 34th week makes certain you have completed all necessary paperwork before your baby's birth. You can meet with a Maternity Care Center nurse to complete your forms, receive educational materials and have the opportunity to ask questions.
Your Private Room
Our labor, delivery, recovery and post partum rooms offer you the comfort of your very own bedroom. When delivery begins, they convert into a state-of-the-art delivery room. An operating room also is available inside the Maternity Care Center for Cesarean Section procedures.
Features
Television and DVD player
Refrigerator
Private bathroom with shower
Glider rockers/chair beds
Roll-away-beds available for family
Kitchenette stocked with snacks and drinks
Room service for breakfast from 6:30 until 10 a.m. and lunch and dinner from 10:30 a.m. until 6 p.m.
Our Nursery
Our caring team and the latest monitoring equipment will keep a close watch on your bundle of joy. A security system keeps all of our babies safe and sound in their cribs.
Special Care Features
Fetal monitoring and surveillance systems
Infant care warmers and isolettes
Infusion pumps
Phototherapy equipment
Oximetry equipment
Hearing screeners
Preparing For The Trip Home
While getting ready for delivery of your baby, we recommend you also learn how to properly prepare for the trip home. These partners provide free inspections on properly securing your child into their safety seats.
Online Maternity and Childbirth Education
This anytime, anywhere education, powered by YoMingo®, is designed to give you convenient access to valuable information at every stage of pregnancy, birth and beyond. Click on the link to receive an email to create your personalized account and get started.
Get Started