Outpatient Rehabilitation centers
Johnson Memorial Hospital
317.736.3510
1125 West Jefferson Street
1165 Building
Franklin, IN 46131
---
Stones Crossing Health Pavilion
317.535.4075
3000 South State Road 135
Suite 110
Greenwood, IN 46143
We provide physical, occupational, and speech therapy services at two outpatient rehabilitation facilities. Below you will find information about our specialized services.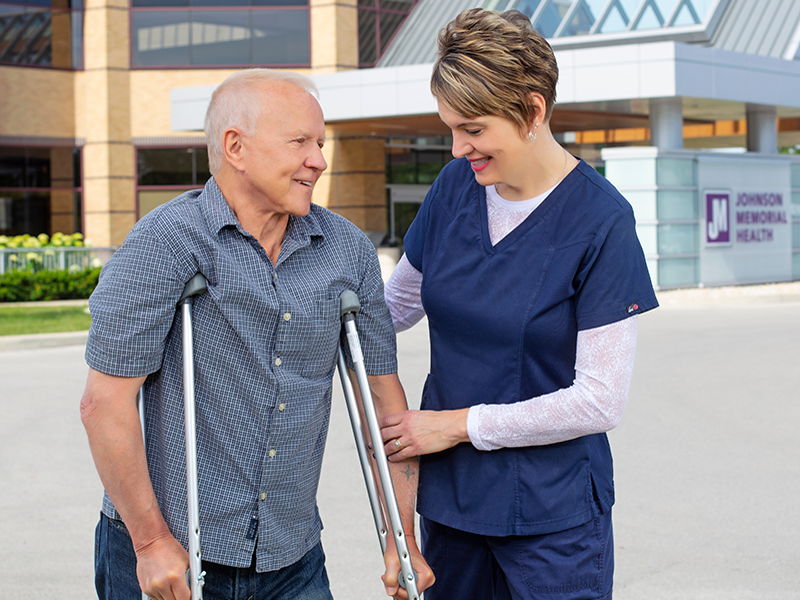 Physical Therapy
Our physical therapists provide a full range of rehabilitation services designed to reduce pain and prevent further injury.
Services
Kinesiotaping
Orthotics
Sound Assisted Soft Tissue Mobilization (SASTM)
Vestibular rehabilitation
Neurological
Orthopedics
Sports outreach program
Dry needling
Cupping
Balance/fall prevention
McKenzie Method
Pediatrics
Occupational Therapy
Our occupational therapists focus on improving motor, sensory, cognition and behavioral functions.
Services
Orthopedic injuries
Musculoskeletal pain
Cognitive limitations
Neurological impairments
Strength and motion exercises
Splinting
Pain management modalities
Patient education on preventive measures and self-management of symptoms
Pediatrics
Speech-Language Therapy
Our speech-language pathologists specialize in evaluating and treating adults and children who have difficulty with speech and/or language.
Services
Speech disorders
Language disorders
Swallowing/feeding disorders
Cognitive-communication disorders
Pediatrics
We Are Stroke Ready Certified
Johnson Memorial Health has been accredited with Stroke Ready Certification by the Healthcare Facility Accreditation Program (HFAP). Accreditation confirms that we are providing high quality stroke care. Our team has received special training to recognize and treat stroke patients with tPA, the clot-busting drug, administered to eligible patients. We have the ability to care for our stroke patients in our emergency department then to home health therapy and outpatient therapy.