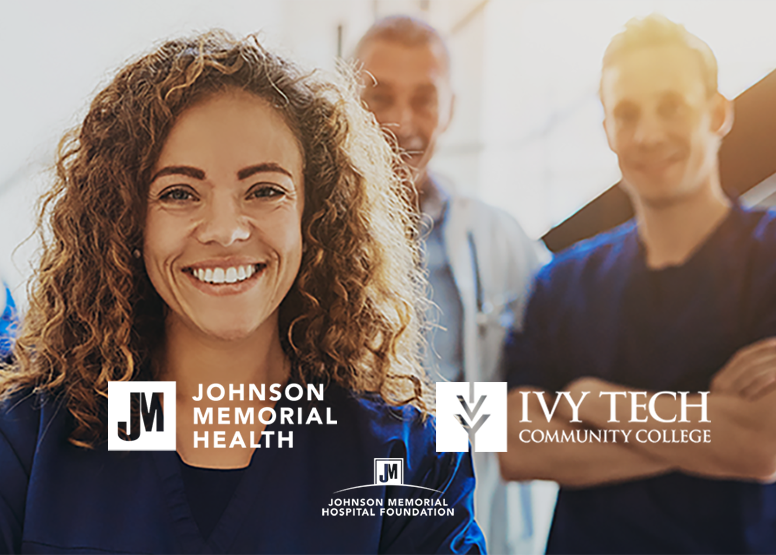 START
a Healthcare Career


EARN

a Paycheck


GET

Free Class Tuition

Are you trying to determine a meaningful job path?

What if you could help people feel better, make money right away and launch an exciting career in healthcare? And best of all, have your local hospital take care of your certification costs?


If so, check out our Certified Nursing Assistant program through Johnson Memorial Health and Ivy Tech Franklin. This is the pathway to becoming a Patient Care Technician at JMH.

Besides the financial benefits, this is a great opportunity to:
be part of Johnson County's leading healthcare system.
position yourself for advancement.
work close to home with people who love caring for our community.
After this first step, if you decide to further your education in healthcare, you are eligible for support with additional tuition reimbursement and scholarship opportunities.

WHAT TO KNOW
About the CNA Program
Classes will take place from 8:30 a.m. to 2:30 p.m. Tuesdays and Thursdays at the Ivy Tech Franklin campus starting August 22, 2022.
Participants must agree to a one-year employment agreement as a Patient Care Technician (CNA certified) with Johnson Memorial Health.
Johnson Memorial Health agrees to pay tuition for the coursework.
Participants will get paid only for time worked for JMH, but not classroom time. They will get paid for general orientation at JMH and then shifts scheduled for various duties.
The program is 12 weeks and limited to 10 students per semester.
Participants must be a high school graduate or have a GED certificate.
About Becoming a Patient Care Technician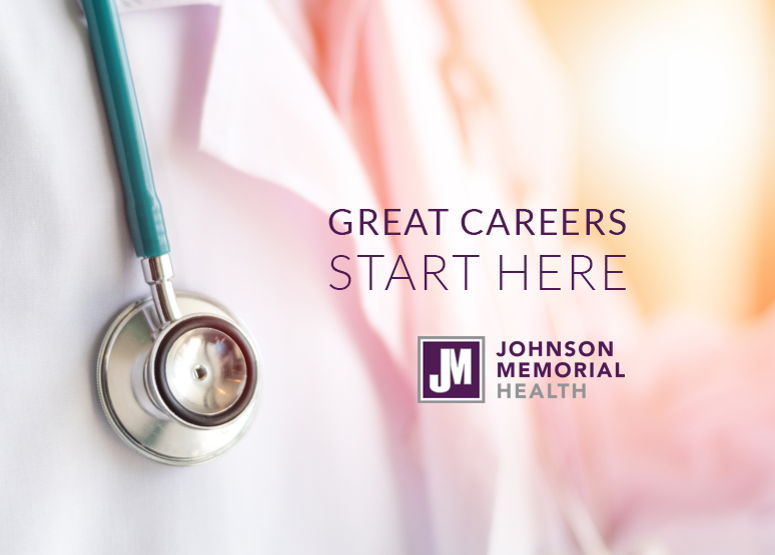 Questions?

Please contact Judy Ware, Johnson Memorial Health Human Resources Director
317.736.3410
jware@johnsonmemorial.org


Have You Ever Considered Becoming a Registered Nurse?
Joining Johnson Memorial Health as a Patient Care Tech (CNA) is a great place to start. Our CNA partnership program with Ivy Tech not only covers your class tuition and provides a paycheck, but it also offers practical front-line experience as a healthcare professional. It also gives you a pathway toward the training and education required for more advanced positions such as an RN.
what to know
About the Ivy Tech Course
The Program
This prepares individuals desiring to work as nursing assistants with the knowledge, skills and attitudes essential for providing basic care in extended care facilities, hospitals and home health agencies under the direction of licensed nurses.
It presents information on the health care system and employment opportunities at a variety of entry levels. Includes an overview of the healthcare delivery systems, healthcare teams and legal and ethical considerations.
This course also includes training for use of protective personal equipment and infection control practices for the prevention of the spread of COVID-19.
Individuals who successfully complete this course are eligible to apply to sit for the Indiana State Department of Health (ISDH) certification exam for nursing assistants. This course meets the minimum standards set forth by the ISDH for Certified Nursing Assistant training.
The Objectives
Upon successful completion of this course, the student will be expected to:
1. Demonstrate an understanding of the role of the nursing assistant in healthcare.
2. Identify and demonstrate beginning nursing assistant knowledge, skills and attitudes for the provision of quality nursing care.
3. Demonstrate communication techniques appropriate to a nursing assistant.
4. Perform resident care procedures according to the Indiana State Department of Health standards.
5. Utilize knowledge of the legal and ethical aspects of healthcare related to the responsibilities as a nursing assistant and member of the healthcare team.
6. Apply basic math skills to patient care situations.
7. Apply knowledge of Infection Control Standard Operating Procedures, visitation guidelines for Long-term Care Facilities and proper use of PPE in the practice of skills and during the supervised clinical experience.
WHAT TO KNOW
About Ivy Tech Franklin
Our full-service campus has the services and classes available to help you be successful. Students in the Healthcare Specialist program are able to study a wide variety of certification options, including Certified Nursing Assistant.