ONE PLACE FOR WOMEN
In today's busy world, it is important that women find their care in one convenient place. The JMH Women's Health Specialists invite you to HER - a program to help you reach your potential by coordinating all your healthcare resources.
833.383.4HER (437)
MEET THE HER TEAM
Emily D. Cline, M.D. (left) is board certified in obstetrics and gynecology. While currently practicing gynecology only, she is committed to caring for women of all ages, with a special interest in urinary incontinence, pelvic support problems and minimally invasive GYN surgery. Dr. Cline is also available to manage your annual exams, contraceptive management, treatment of menopause symptoms and other routine GYN needs. At the core of this service is Sandi Stinson, CMA, your HER Care Coordinator, who directs you to the resources you need.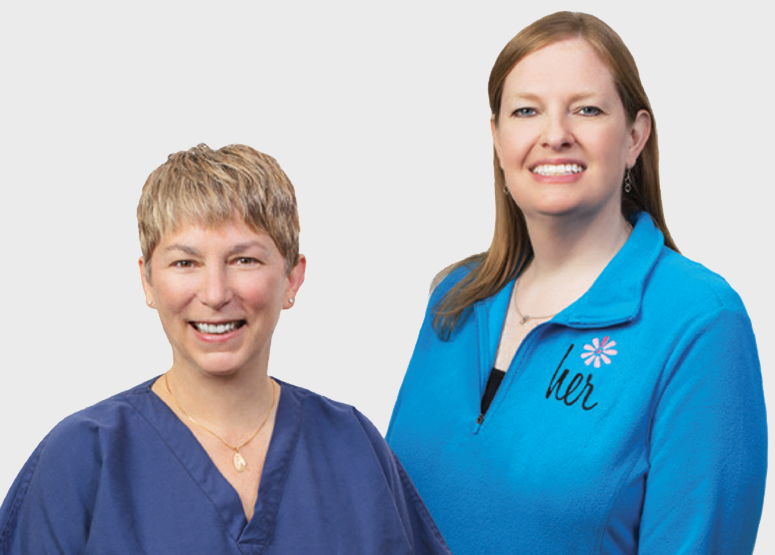 Let's Start a Conversation
FOX 59 Indy Now - Breast Cancer Awareness
Emily D. Cline, M.D. of Johnson Memorial Health talks about the importance of breast cancer screening.

"With screening, we are trying to find illness early for someone who is asymptomatic..."
- Dr. Cline
FOX 59 Indy Now - About Caring for HER
Emily D. Cline, M.D. is featured on Indy Now to share information about women's health and the Care for HER program available at Johnson Memorial Health.
"We want this kind of care available to all..."
- Dr. Cline
RTV6 Coffee With The Doc
WRTV's Laura Kirtley stops by Main & Madison Market Café in Franklin to speak with Emily D. Cline, M.D. about the Care for HER program at Johnson Memorial Health.
"There is a big misperception that there aren't any treatments for these problems..."
- Dr. Cline
HER Topics
Women's Incontinence
Don't let a leaky bladder stop you from living life to its fullest. The condition isn't necessarily just a part of aging and can often be easily treated. If you suffer urinary incontinence or have any concerns about your pelvic health, now there's a singular resource to help you get answers with no physician referral required.

By the Numbers
Of the 25 million adult Americans suffering from some form of urinary incontinence, 75 to 80% of those are women.


Stress urinary incontinence, the most prevalent form of incontinence among women, affects an estimated 15 million adult women in the U.S.


About 17% of women and 16% men over 18 years old have overactive bladder (OAB) and an estimated 12.2 million adults have urge incontinence.


Between the ages of 18 and 44, approximately 24% of women experience incontinence.


For women over age 60, approximately 23% deal with incontinence.
Sources
National Association of Continence
WomensHealth.gov
Boston Scientific
Pelvic Health
Pelvic Health is the best possible functioning and management of the bladder, bowel, and reproductive organs. It is not merely the absence of disease or weakness in these organs. Pelvic health plays an important role in complete physical, mental, social and sexual well-being.
By the Numbers
The proportion of women who reported at least one pelvic floor disorder increased with age: 9.7% of women aged 20 to 39 years, 26.5% of women aged 40 to 59 years, 36.8% of women aged 60 to 79 years, and 49.7% of women 80 or older.


Nearly 24% of U.S. women are affected with one or more pelvic floor disorders.


Underweight and normal-weight women were less likely to have a pelvic floor disorder (15.1%) than were overweight women (26.3%) and obese women (30.4%).


The prevalence of pelvic floor disorders also varied with the number of times a woman had given birth: 12.8% for women who had never given birth, 18.4% of women who had one child, 24.6% of women who had two children, and 32.4% for women who had three or more children.
Source