David Dunkle, MD Named New President/CEO
May 29, 2019 Author: Johnson Memorial Health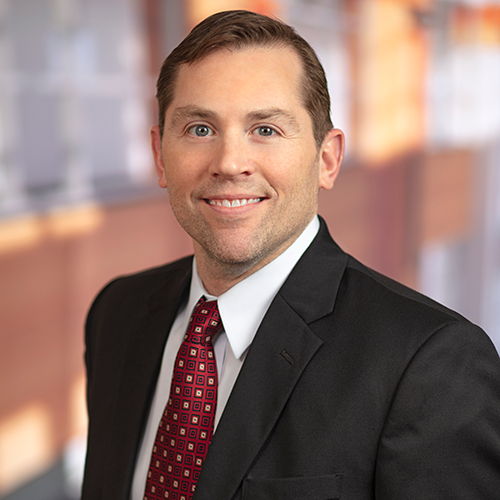 The Johnson Memorial Health Board of Trustees has announced that David Dunkle, MD, has been appointed as the new President/Chief Executive Officer of Johnson Memorial Health. Dunkle, a long-time family physician at JMH, has been acting as interim CEO since late February.
"After careful consideration, the Board has determined that Dr. Dunkle is the best person to lead Johnson Memorial Health as we continue to serve the growing health care needs of the county," said Sandi Huddleston, Chairperson of the Board of Trustees. "Dr. Dunkle is beloved by his patients and admired and respected by his fellow physicians and the staff at JMH. We are very excited about the future of Johnson Memorial Health under his leadership."
In addition to his role as a family physician, Dunkle has served as Vice President of Medical Affairs at JMH and is Vice President of the Johnson Memorial Hospital Foundation Board.
Dunkle was named Johnson Memorial Health's "2018 Physician of the Year" by his patients and peers.
"I am honored to take on this new role at JMH and will be a tireless advocate for our talented and dedicated employees," said Dunkle. "There are many exciting things happening at Johnson Memorial in the coming weeks and months. I'm eager to help us evolve to the next level as we continue to provide outstanding care for our patients."
Dunkle has already been heavily involved in the planning and construction of Johnson Memorial Health's new emergency department and outpatient services building. The new structure, which is completely reshaping the east side of the hospital campus, will open in early 2020.
Dr. Dunkle grew up in West Lafayette, Indiana, and attended Franklin College, where he was a standout basketball player and academic All-American. He graduated from Indiana University School of Medicine and completed his residency at St. Francis hospital in Indianapolis. Dunkle then returned to Franklin to join his friend and mentor Douglas Bullington, MD, in practice at Family Physicians of Johnson County.
In his new role as CEO, Dunkle will scale back his hours in the family medicine practice, though he does plan to continue to see some patients.
"I believe it will help me in my role as CEO to continue to interact with our patients," said Dunkle. "Learning from patients about their experiences at JMH will allow me to guide the entire organization toward even better customer service."
Dunkle resides in the Center Grove area with his wife Amy and two children, Evan and Reese.
About Johnson Memorial Health
Johnson Memorial Health is a nationally-recognized network of physicians, services and health care resources based in Johnson County, Indiana. The centerpiece is Johnson Memorial Hospital, located in Franklin Indiana, which has been serving patients as the county's only hospital since 1947.
Johnson Memorial Health provides award-winning services including cancer, cardiovascular, diabetes, maternity, orthopedic, sports medicine, pain, weight loss and wound healing care. The network also features breast care, home and occupational care and outpatient rehabilitation services.
In addition to the main campus in Franklin, Johnson Memorial Health has expanded to include the Greenwood Primary Care Center, the Whiteland Primary Care Center and the Franklin Primary Care Center. In 2013, Johnson Memorial Health partnered with Community Health Network to open the Stones Crossing Health Pavilion to serve the residents of the Center Grove area.
Johnson Memorial Health has been awarded numerous accolades, including the 2019 Women's Choice Award for emergency care and overall safety.