JMH Wound and Vascular Center Recognized for Clinical Excellence
April 5, 2023 Author: Johnson Memorial Health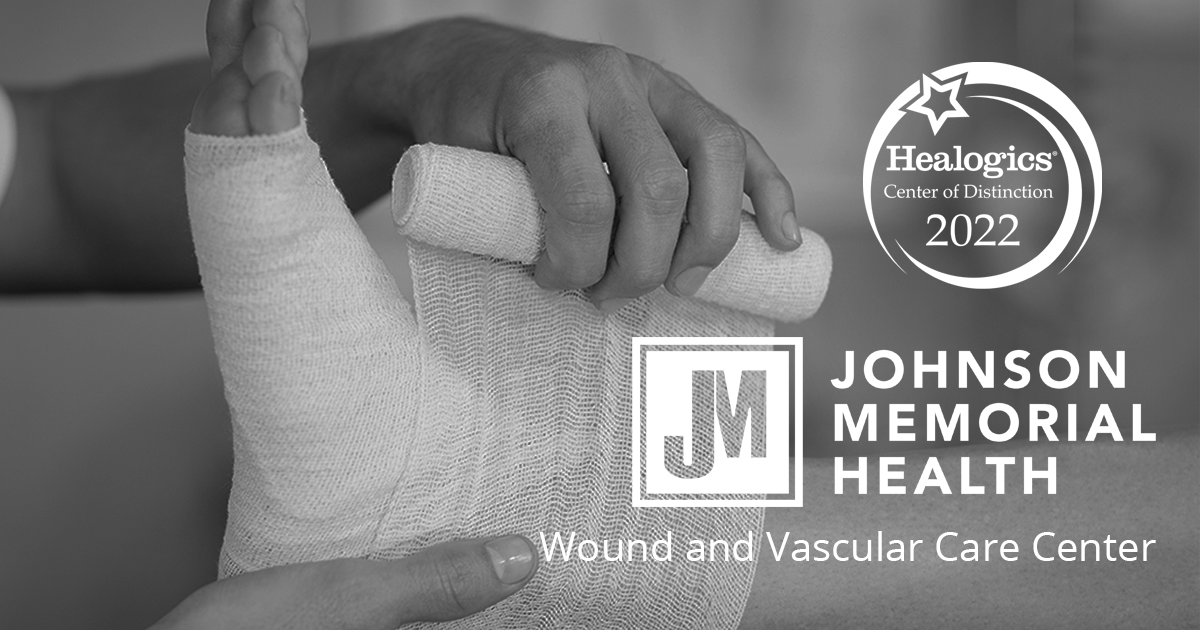 Johnson Memorial Health's Wound and Vascular Center has been named a recipient of the Center of Distinction award by Healogics®, the nation's largest provider of advanced wound care services. The center achieved outstanding clinical outcomes, including a patient satisfaction rate higher than 92 percent.
The JMH Wound and Vascular Center is a member of the Healogics network of more than 600 Wound Care Centers® and offers highly specialized wound care to patients suffering from diabetic foot ulcers, pressure ulcers, infections and other chronic wounds which have not healed in a reasonable amount of time.
"The wound care team has a continued and consistent commitment to excellence, and a focus on creating an exceptional patient experience," said Dr. David Dunkle, JMH President/CEO.
The JMH Wound and Vascular Center offers access to state-of-the-art outpatient clinical wound care. Providers specialize in advanced wound care, using a variety of clinical treatments, therapies and support services to treat chronic wounds. The physician-driven, multidisciplinary approach to outpatient wound care has a superior success rate in facilitating the healing process.
To be awarded the Center of Distinction, a center must excel in key performance indicators, including patient satisfaction, wound healing rate and other outlier rates.
The JMH Wound and Vascular Center's comprehensive wound care utilizes the latest clinical tools and traditional clinical practices. Individualized treatment plans include:
Hyperbaric Oxygen Therapy (HBOT)
Wound dressings
Bio-engineered skin grafting
Compression therapy
Prescription growth factors
Debridement
Edema management
Non-invasive vascular assessment
Negative pressure wound therapy
The center is located in Building 1125 W, 1125 West Jefferson Street, Franklin, Indiana. For more information about wound care services or to schedule an appointment, contact 317.346.2700 or click here.
About Healogics
Headquartered in Jacksonville, Fla., Healogics is the nation's wound healing expert. Last year, more than 300,000 patients received advanced wound care through a network of more than 600 Wound Care Centers. Healogics also partners with more 300 skilled nursing facilities to care for patients with chronic wounds and provides inpatient consults at more than 60 partner hospitals. As the industry leader, Healogics has the largest repository of chronic wound-specific patient data in the country. The Healogics Wound Science Initiative offers peer-reviewed research and advanced analytics in the pursuit of not only better outcomes, but a better way to provide care.